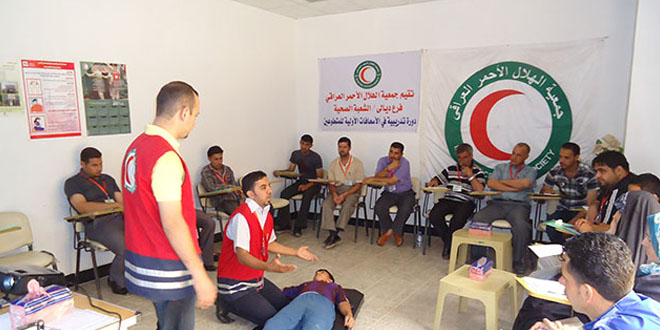 The Iraqi RC/ Sulaymaniyah branch distributes food assistance and aid to the needy families in Khabatt locality – Sulaimaniyah governorate, as this distribution cames after an initial questionnaire by a special team formed for this purpose in order to register the needy families and evaluate their needs and insure them.
Cadres from Sulaymaniyah branch carried out first aid sessions to the staff and volunteers at the branch, and to the civil society organizations on the (CDO Organization Hall) as this sessions includes introductory lecture about principles of first aid and ways to transfer the injured, and how to aid emergency cases like bleeding, choking, fractures, Shocked and other cases.
These courses held in order to raise health awareness level for the participants and to create a new first aiders, adding to what had just mentioned, cadre in the above branch organized soccer championship for youth and students in Bakhtiari Stadium with the participation of four teams where the gifts were distributed to the winners, while the number of beneficiaries reached 35 player in addition to the distribution of sportswear.