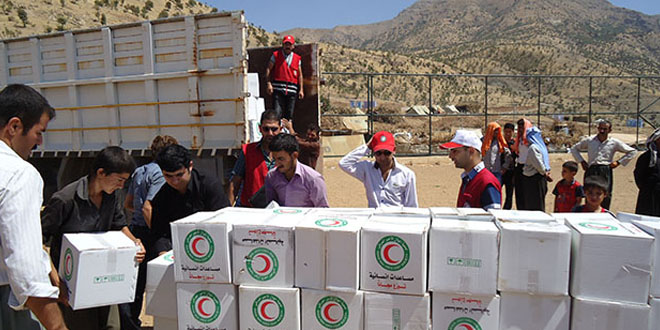 The Iraqi Red Crescent Society / Kirkuk branch, distributed food assistance to the needy families, widows and orphans in the district of Daquq at Kirkuk as the Iraqi RC distributed (250) food parcels. As a cadre from the branch organized celebration on the occasion of the International Day of First Ambulance that included a speech to describes the activities of the Iraqi RC at the programs of healthy work and first aid, there was also a theatrical performance for volunteers regarding the role of the First Aider as well as show documentary pictures illustrative First Aid and disaster. The cadre also carried out a number of educational courses, including a course for on how maintenance computer in which the number of beneficiaries was (15) volunteers, adding to another and course in the same context  held by Al-Dabas office/ Kirkuk branch, the number of beneficiaries was (10) volunteers.
The above branch also carried out a healthy campaigns to raise awareness of Communicable Diseases while the number of beneficiaries was (141) beneficiaries, as well as to implement psychosocial support for volunteers in which the number of beneficiaries was (15), another course first for traffic accidents for drivers and to organize First Aid to the people in Abbasse area at Hawija in which number of beneficiaries (16) people.
The cadre of Branch carried out lectures with the preparation of youth leaders in the camp, which was organized by disasters Division in the governorate and the number of beneficiaries was (20). Also they did a number of activities, youth and sports where in which the beneficiaries were (10) volunteers….