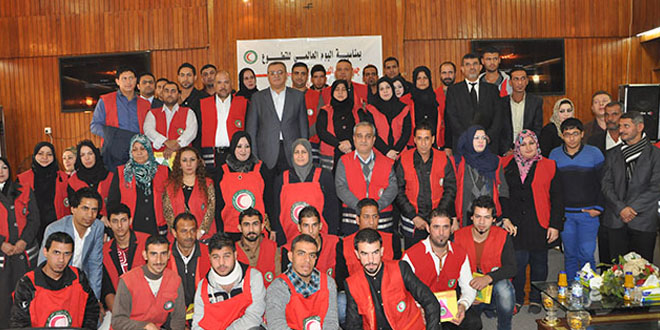 The Iraqi Red Crescent Society organizes a ceremony to honor the volunteers of the Iraqi Red Crescent Society on the occasion of International Volunteer Day. The president of Society Dr.Yaseen Al-mamori said on this occasion "we are proud today in our society as part of the International Movement of the Red Cross and Red Crescent Societies and is one of the oldest humanitarian organizations which dedicated to volunteer, but Iraqi RC organized the volunteer in accordance with the programs and the fundaments which the volunteering work is depending on, as it is a humanitarian principle, and its first goal is to help the affected people without seeking for any material gain or fee".
Dr.Yaseen Al-mamori also added that "we are proud of our society and what was done by the relief operations for those affected people. As our volunteers did well regarding the relief operations for the affected in which this work lauded by all, and wrote thanks and praise for the society for its efforts, while this reflects our commitment to the humanitarian principles and quick access to the affected people. I am, through you, would like greet all the volunteers in the world and especially our volunteers who are working very seriously in the fields".
Then the volunteers thanked Iraqi Red Crescent Society to adopt them and provide support to continue the work in presenting humanitarian assistance to the affected families.
At the end of the ceremony, Dr. Yaseen Al-mamori honored the volunteers appreciating their extraordinary efforts in humanitarian work.