From  the early morning,   Khaled Qasim Elias a thirty year old  accustomed  to speed up to persist in  his daily work as a building worker in his small town, which  sleep  between the northern   mountains of Iraq. his  small city Sinjar on 7th of  June,  it  seems to be completely different, is  overcrowded with thousands of escapee families, who  seems to be fleeing fear and panic clear to these families, however, one of the Women's adherence to her baby daughter, which did not inform fifth years old   strongly rides in carrying another child on her shoulder and she urges her daughter to walk quickly in an attempt to reach a place of safety is unknown, a few hours of the time , that small city was filled with hundreds of families that were distributed on mosques, churches and infrastructure and some of them  remained in the street.
Food, water, shelter and medicine , who provide  and help them all these questions Khaled, starting to thinking of it ,  who decided to return to his home before that is open his  home to the displaced  family Tal Afar, to share his children daily food with another family, but the problem is not over yet in the city, which was full of displaced, while   the IRCS volunteers are trying to assist them ,  Khaled decided to join them, and he starting with  a journey of hard work begins with worn badge , when he found himself within  a group of IRCS  volunteers found answers for all his questions  who are trying hard to help the displaced.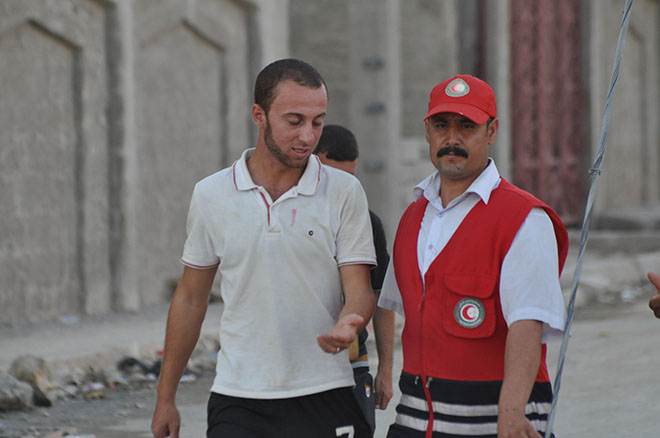 I could not describe how happy when I felt that I can assist all  these families, , Khaled, says " IRCS provided me a means to help them , and I have become a part of the team that would help the weak"  ,  who was there on this case for a long time until he was forced to escape with his family from  Sinjar,  after the militants entry to his town ( Sinjar) and now he is trying to found an unknown safe place to his children to protect them from  fear of the danger .  Jabal Sinjar was the closest to start Khaled and his family  a trip, who were forced to go to the mountain
When I felt that the life of my children and my family  became in danger rushed in to Sinjar mount, where we had to go on foot to the top of the mountain, me and my  wife and my three children with little water and food, which bear with us, we were able to finish first day and sleeping  in open air, amid fear,  this case was continue for three days, and  during this period could to  contacts my colleagues in IRCS to  aid deliver  through the flight, indeed aircraft dropped the IRCS aid on the mountain, and  we got some of them ) and Khaled tell us his views the situations of the besieged families in the mountain, where he says: " more than seventy children were died  while being besieged in Sinjar Jabal as a result of loss of food, water and milk for children).  After eight days of siege Khaled began another trip to Qandil Mount on foot, after a full day reached to city of Dohuk, to returning to work with the IRCS as a volunteer.