By Raefah Makki and Soraya Dali-Balta, IFRC MENA
Over 1.4 million Iraqis have been forced to leave their homes and relocate to safer regions in their country or abroad as the recent surge in violence has put their security at risk. Food safety has become another major concern that required attention from the Iraqi Red Crescent Society and other Red Cross and Red Crescent societies involved in the country's crisis.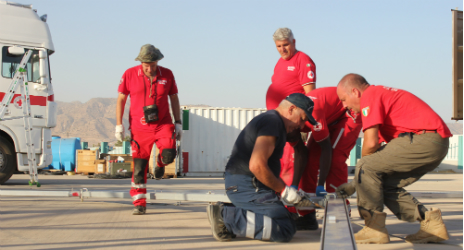 In response to the situation, the Italian Red Cross has set up a field kitchen in the Dohuk governorate of Iraq's Kurdish region. The kitchen is equipped and prepared to cook up to 10,000 meals per day and is strategically located around 25 kilometers away from the largest internally displaced persons (IDPs) camp in the country.
The field kitchen is essential for the displaced families living in host communities, either on streets or in unfinished buildings.
"We are here to utilize our experience in mobile field kitchens to serve the Iraqi people who are in need, and to stand by their side during this  emergency," said Field Assessment Coordination Teams (FACT) leader Rocco Cosentino.
Among the volunteers serving in the field kitchen is Yaacouba Kone, a Malian national who himself was a refugee in Italy. Kone fled unrest in Mali in search for a safe haven in the European country. Recognizing and appreciating the Italian Red Cross' work and contribution to improving his life as a refugee, Kone then decided to join the Turin branch of Italian Red Cross office in northern Italy as a volunteer and was among those carrying out the field kitchen mission in Iraq.
The Italian Red Cross has its experience in establishing field kitchens during large-scale international disasters. A soup kitchen was set up in the aftermath of the Georgian crisis in 2008, and in 2011, the society served hundreds of Libyan refugees who were forced to seek refuge in neighbouring Tunisia.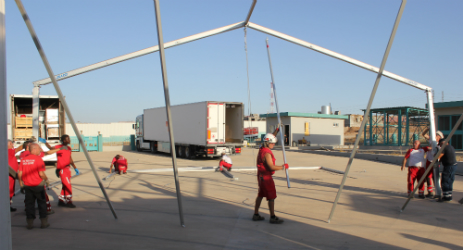 The Italian Red Cross fleet in Iraq comprises six long vehicles, five light vehicles, one off-road ambulance, two cold stores, two electricity generators, two tensile structures, including floors and electric systems, and one water tank in addition to one camp kitchen and one wheeled kitchen.
Since June 2014, Iraq has been the scene of violent clashes and increased tensions in different parts of the country. The fighting has forced  over 1.4 million people to flee their homes. The Kurdish region of Iraq currently hosts around 750,000 IDPs alone.