The displaced people from Mosul, Kirkuk and Salahuddin live in difficult situations after they were deployed in different areas of the center and south of Iraq, as thousands of them take from schools and mosques as a houses for them after they leave their homes in different areas of Mosul , Kirkuk and Salahuddin searching for safer places in Kurdistan and then to the central and southern Iraq.
In the time that Iraqi Red Crescent Society working to provide the necessary supplies for the lives continuance for hundreds of thousands from these families as well as give some programs of psychological support to help these families.
Iraqi Red Crescent has made a breakfast meal for more than 300 families in the city of Baghdad the event which was attended by a group of Iraqi national team players and a number of artists and media, where include a series of events aimed at helping displaced families psychologically.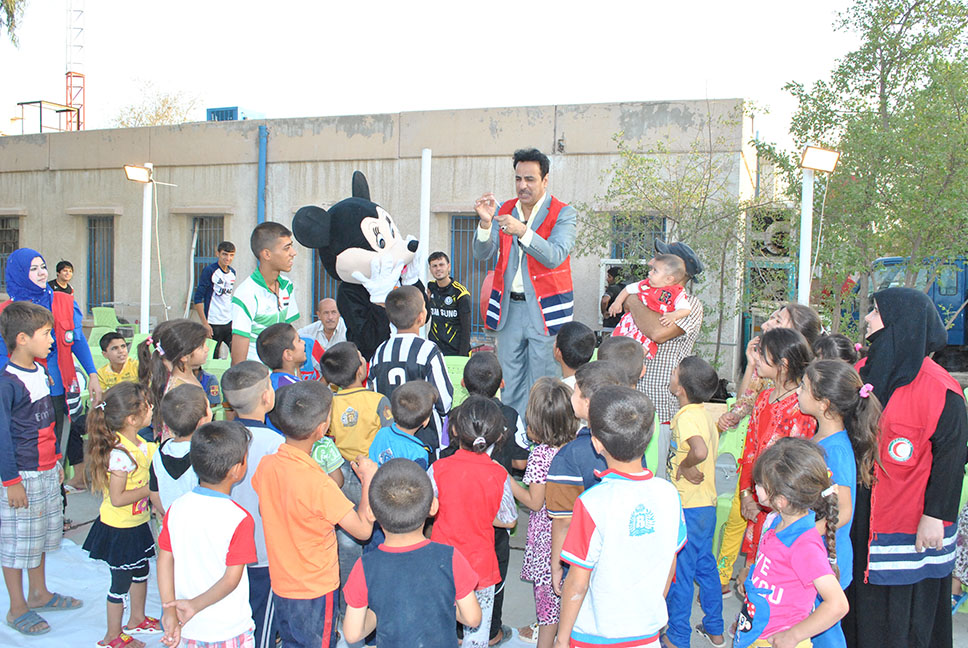 The Iraqi artist (Ihsan Daadouch) said, while he was distributing food to a number of children "Iraqi Red Crescent always used to help needy families, widows and orphans, and nowadays, Iraqi Red Crescent hold a message to all who can provide support to the displaced people because these families have lost their homes and possessions, they are looking for a safe place, so let us try to provide a safe psychologically environment to them and help them as much as we can".
On other hand, the journalist Mr.Asaad al-Mutairi said "we came under the kind invitation from Iraqi Red Crescent to support these families, and to present them a breakfast adding to co-exist with them. Also to understand more of what they are suffering from. Mr. Asaad adds that we as the messengers of peace, have to present everything that is happening to these families in order to help them and to stand with them psychologically and morally, As well as we would like to tell them we are with you in the time which we feel your suffering and the impact of displacement that happened to you.