BAGHDAD / Mohammed al-Khuzai
After the fall of Ramadi city (The center of Anbar) thousands of families has rushed to Baghdad and Babylon acrossMusayyib in Babylon and Bzaibez in Baghdad, since two days ago the two mentioned across wereovercrowded with more than (32,000) dispersed people who were distributed in the areas of (Habbaneya andAmeriyatal-Fallujah) while more than 10,000 displaced people were able to enter Baghdad after two days of waiting. In which hundreds of elders, women and children arrived on foot as a result of the humanitarian situation in their own areas because of the armed clashes that have occurred recently.
Abu Jassim, one of the displaced people from the city center said "since two days ago,me and my family were moving on foot, as the situation in our city became scary after continuing events of battles and the fall of the city. We are now looking for shelter as wehave lost everything, we do not have even the price for drugs, we are trying now to enter Baghdad although we do not know where we will resort when enter it".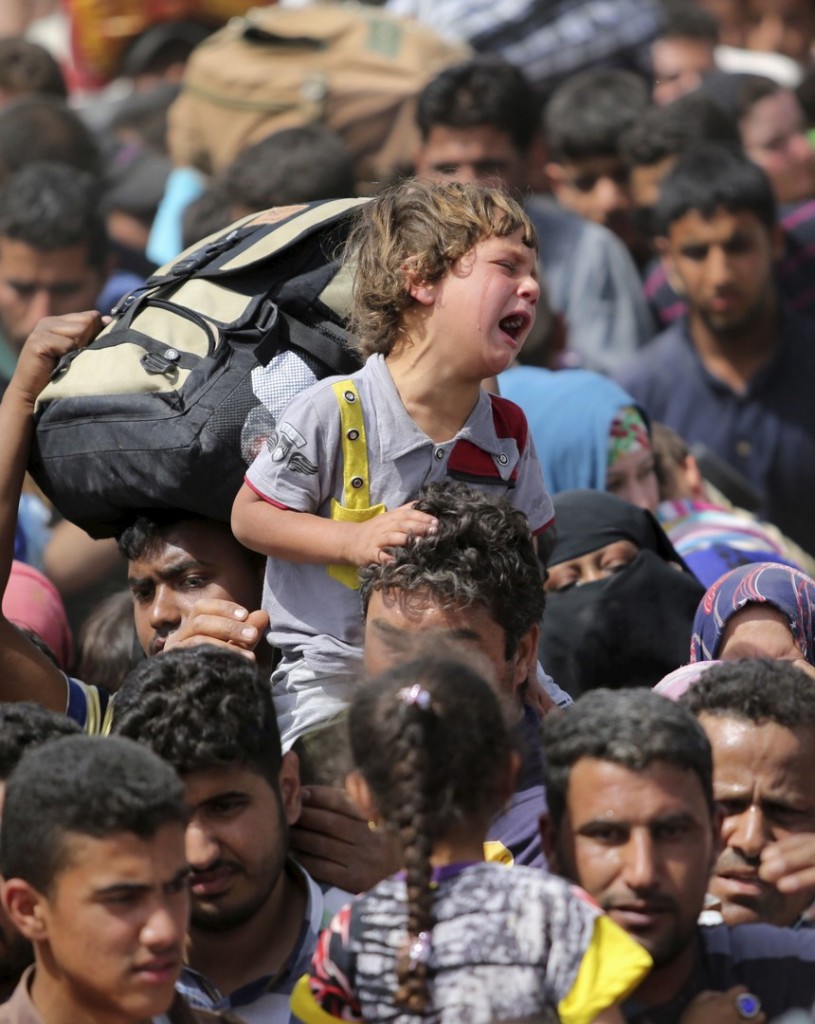 For the third day in a row, and in spite of the high temperatures there were thousands of families have forced to stay overnight in the desert, while the others have resorted to a number of camps which installed by the Red Crescent Society (IRCS) and some government agencies.
Jamal Mohammed, he is also one of the displaced people from the outskirts of the city said "since three days ago, we live a tragic cases, we are sleeping in the streets with my children who need for care. If the situation continues as it is we are going to have more tragic".
Dr.Yaseen al-Mamouri (the president of the Iraqi Red Crescent Society) said "The aggravation of the humanitarian situation in Anbar led toincrease the suffering of displaced people and also increases their humanitarian needs.in which they need shelter, food and health services that are almost being non-existent".
Noting in the same time that "the Iraqi Red Crescent teams and some government agencies are working hardly to reduce the impact and the risks that the displaced had, and they are doing their best to response to the needs of displaced people".
Since the last three days, the above mentioned parts has been able to provide shelter for more than 3,000 families through a number of camps which had installed in Ameriyat al-Fallujah and some other neighborhoods,
Iraq Red Crescent society'svolunteers was able to provide drinking water for more than (17000) people, and also distributed ready meals and food parcel to approximately (6,000) displaced people. The survey which made by Iraq Red Crescent society health teams explained more than (1400) chronic medical conditions, respiratory infections, and skin diseases which are all suffered by the displaced people who are living in difficult situation and need for urgent medical emergency treatment. Iraq Red Crescent society teams tried to provide them with some treatments such as, medicines, first aid for the displaced people, while Iraq Red Crescent society teams were able to treat more than 300 medical conditions during the past two days in addition to hundreds of fainting cases, forfeiture, as result of fatigue while the other  displaced people still in need for treatments.
In the meantime, thousands of families who are located in  Al-Khalidiya city (which is 15 kilometers Eastern of Ramadi) even though, fighting spillover to the nearby  areas of the mentioned city, and shortage of service such as, electricity and health. While Iraq Red Crescent society relief teams are trying to deliver convoy of relief assistances to city under very difficult conditions over there. On the Iraqi-Syrian border, there were some families have resorted to cross into Syrian territory through the Al-Qaeem Border.
Since the beginning of 2014 Anbar governorate (which is 100 km western of the capital Baghdad) had witnessed security events and violence. During the period of first three months, the number of displaced families reaches (50) thousand families while the movement of displaced people mainly was from the city of Fallujah and some neighboring cities to other places within the governorate. And after that, the governorate has witnessed kind of stability that makes some of families return to their place, but this stability did not lasts for a  long time after the events of the falling down of Mousil Governorate in June 2014 which reflected in some areas in Anbar which forced some displaced families in the city to flee again and since then thegovernorate is witnessing displacement waves since then till now, and according to the statistics of Iraqi Red Crescent the number of displaced families was(82500) families until the end of March 2015.