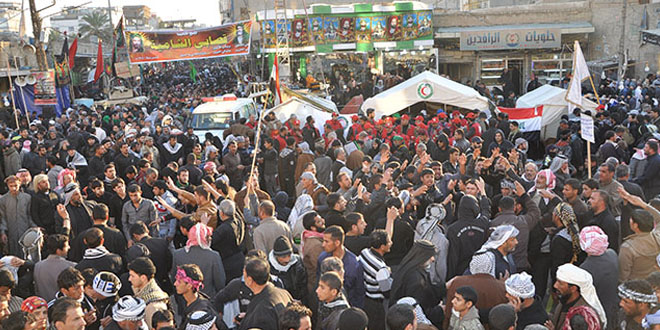 Annually, a flock of millions of local citizens and hundreds from foreign neighborhoods who visit the ceremony of Imam Hussein (peace be upon him) death (Arbaeen) which is part of the religious rites followed by the Muslims in Iraq, where the citizens walk on foot for a very long distances which is about 500 kilometers, in some cases the number of visitors annually may reach more than 10 million.
As a number of citizens and religious and civic organizations install camps on the roads to Karbala to secure shelter, food and accommodation for such large numbers of visitors. Iraqi Red Crescent Society installs camps and medical detachments on the roads used by visitors towards the city of Karbala, where the cadres of Iraqi RC publishes it's members and volunteers in the governorate to provide medical services as well as educate citizens and guide them.
The Iraqi RC puts a plan for such events in which more than (5000) member of volunteers participates to provide services for the visitors, meanwhile there is 300 fixed detachments deployed in the roads leading to Karbala and there is more than 2,000 spread one over ways of visitors from various provinces. The number of beneficiaries of the Iraqi Red Crescent services reached more than 750 thousand, whom provided via Iraqi RC with various services of medical treatments and first aid adding to transfer of some cases to the nearest hospitals by ambulances of Iraqi RC as well as to distributed first aid mobile teams follow the itineraries of visitors and to provide them with emergency medical services and water.